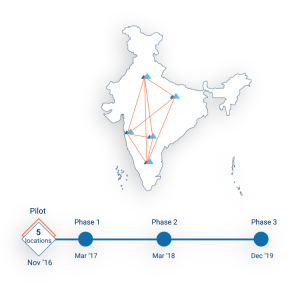 PAN India Startup Hub!
500 hubs with 4 spokes each
Total 2500 centres across India by 2019
Already acquired a space of 1,75,000+ sq.ft.
Committed to developing a culture of innovation and entrepreneurship in every nook and corner of the country.
With a strong foothold in 22 states of India, now world class innovations and best practices can reach people across the nation rapidly.
If you think any innovation or initiative should reach every nook and corner, do let us know at accelerate@ibhubs.co
Walk-through our Vision!
GOT AN IDEA THAT CAN IMPACT MANY LIVES ?
At iB Hubs, equal importance is given to  Purpose  
Driven Social Enterprises, NGOs and Profit Driven Enterprises
We also encourage ventures that develop low-cost  
Business to Government tech solutions.
EQUAL OPPORTUNITIES TO EVERYONE
Irrespective of where they come from - urban or rural
areas, their educational background or work
experience.
Common public and the underprivileged are enabled to
be a part of the startup ecosystem.
Fast track your
startup success
with our


End-to-End Assistance
STARTUPS SPEAK
In our journey of exploring and building iB Cricket, we found strong support and guidance in the form of iB Hubs. We are provided end-to-end assistance for building a world-class product. With the support of iB Hubs, we are able to release iB Cricket globally in 30+ countries simultaneously. We couldn't have asked for anything more.
-   Vasantha Sai, Founder & CTO,


ProYuga
iB Hubs has given me a great team. They have funded us, assisted us in networking and in achieving national outreach. Their end-to-end assistance allows us to focus on our core competencies, which facilitates intensive research and a rapid growth pace for the company.
-   Ram Ganesh, Founder,


CyberEye
The guidance and assistance iB Hubs provides is priceless. They're giving us support in many angles; technical, administrative, operational etc. and they're helping us bring out the leader in us. Our transparency portal has become a reality only because of their technical assistance. Their culture makes us feel like we're just one big family.
-   Meghana Dabbara, Founder,


Make the World Wonderful Society
Previous
Next
KNOW MORE
BRINGING TOGETHER KEY STAKEHOLDERS
iB Hubs is bringing together and working with key stakeholders such as mentors, investors, governments, academia, corporates, research organizations, think tanks etc.
NODAL CENTERS
HYDERABAD
---
The city of Hyderabad, known for its talent pool, has been chosen by several global tech giants, including Google, Apple and Microsoft. This emerging startup city already has more than 1000 startups in its lap.
With a total space of more than 15000 Sq.ft, iB Hub Hyderabad is in Financial District, a place that is home to tech giants and multinational conglomerates.This hub has been nurturing startups since January 2015.
---
GLOBAL MENTOR COMMUNITY
iB Hubs is forming a Global Mentor Community of entrepreneurs, experts from industry and academia, investors, seasoned startup mentors, innovators, and alumni of reputed universities in order to assist budding innovators and entrepreneurs.
Technology
Dr. Seshagiri Rao
Former Associate Director & Distinguished Scientist, ISRO SDSC
Agriculture & Rural Development
Dr. TGK Murty
Former Program Director and Outstanding Scientist, ISRO
Finance & Management
Ms. Ruchira Shukla
South Asian Lead of IFC
World Bank Group
IoT
Mr. Juergen Hase
CEO, IoT Business
Reliance Group
Health & Fitness
Dr.K.Ganapathy
President, Apollo Telemedicine Networking Foundation
CONNECTING WITH GLOBAL MARKETS
With a strong foothold in 60+ countries covering major business regions across the world, iB Hubs enables Indian startups to access foreign markets and foreign startups to enter into Indian markets.
iB Hubs is establishing global nodal centres across 10 countries in 6 continents.
Phase one: India, US, UK, Australia, Singapore and Dubai
Phase two: China, Brazil, South Africa and Russia
iB Hubs is reaching out the entire world with a hub and spoke model.
STARTUPS AND BEYOND...
MAKING WORLD CLASS INNOVATIONS AVAILABLE TO EVERYONE
---
Through iB Hubs established across India, world class innovations and research are taken to every nook and corner of the country.
SOLUTIONS FOR INDUSTRY DEFINED PROBLEMS
---
iB Hubs harnesses the potential of youth to create innovative solutions for industry defined problems and help the Indian industries by providing indigenous solutions.
Through capacity building programs and awareness drives, iB Hubs empowers people who are not a part of the startup ecosystem due to the lack of awareness or skills and ensure that they become a part of the ecosystem.
iB Hubs nurtures children to become future entrepreneurs by developing the required skills and mindset.
FOCUS SECTORS
iB Hubs is a product of iBuild Innovations India Ltd.